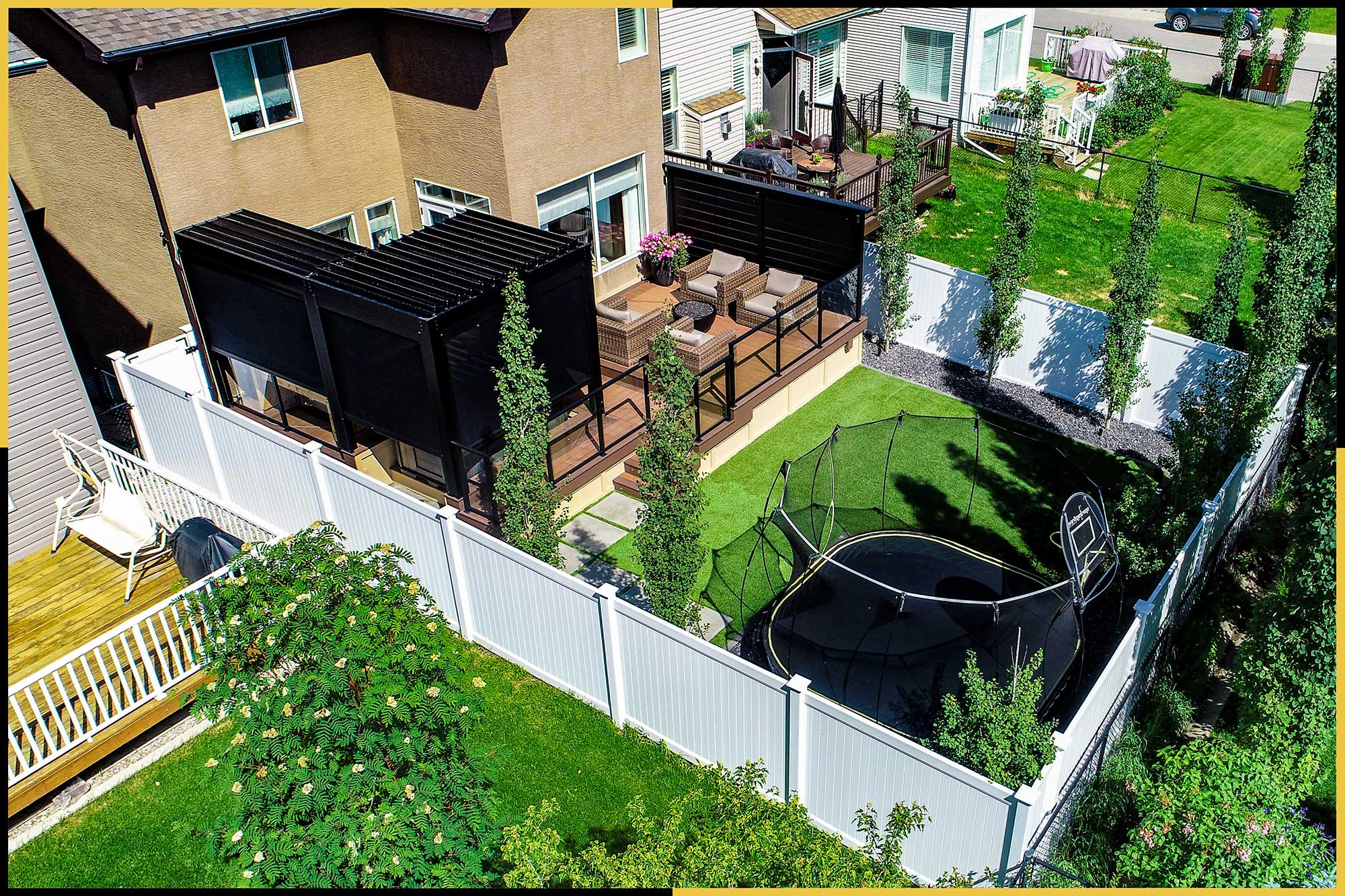 Modern landscapes require straight (or rectilinear) pathways, neat walkways, and elegant appearance. Well-planned and contemporary landscape architecture can completely reform the outlook of your home. Straight forward and streamlined paths with plants placed in nice and neat rows are among the most popular types of landscapes in Calgary. People prefer beautiful landscape architecture over traditional yards or gardens because it saves time and effort. We are providing sleek and beautiful landscape architecture in Calgary, not just random gardens.
Transform Your Home with These Elegant Landscaping Ideas
Pergolas – Outdoor Shade Structures:
Pergolas are widely used in traditional as well as modern landscape architecture. Modern-looking pergolas are a good investment for your yard. You can choose metal or wooden designs, or you can use beautifully handcrafted pergolas to get a more sleek outlook. Pergolas, as a  shade structure, is an excellent idea because it has a traditional style but a modern look. You can also match the design with your house, or it may have a unique look that perfectly fits your home's overall décor.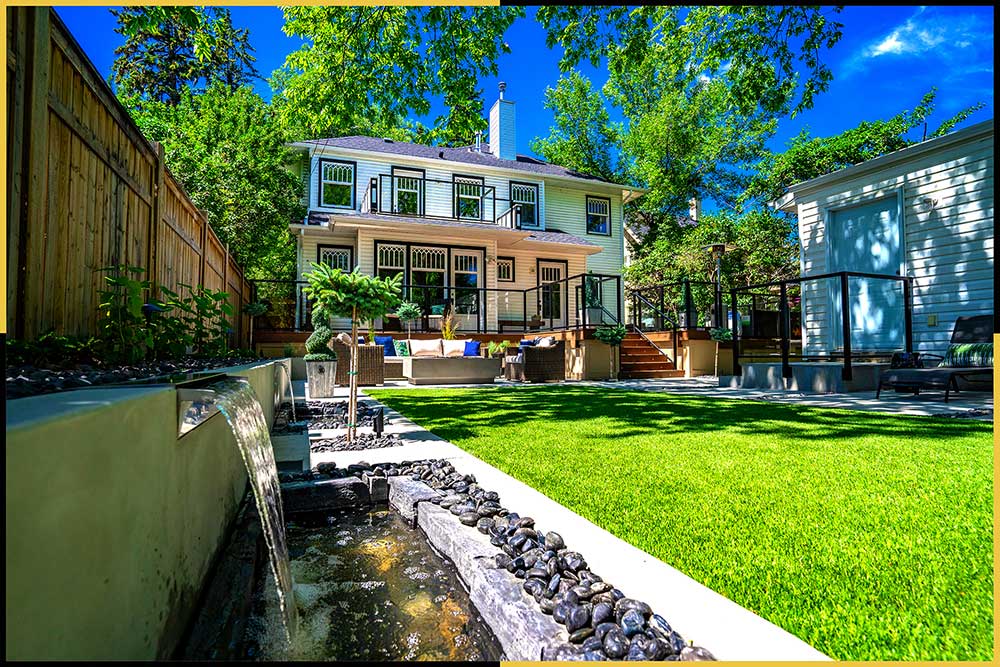 Calgary's modern landscaping often has a minimalistic touch, so a pergola with straight lines is neat and beautiful minimalistic landscape architecture. Transformable roof louvres can provide you with more ventilation options when you want sun kisses or shade during rain or snow.
The more productive use of a pergola can be as a shade over an outdoor hot tub, or you can use it for an outdoor barbeque party. There are minimal chances of rusting or wears because the materials used for pergolas are often very durable.
These sleek landscapes are made of concrete, irregular or regular cut tiles and elegant-looking bricks and slabs. These materials are used to create unlimited shapes and designs that can add to your walkways' outlook. Modern paving stones are also one of the most used hardscapes in Calgary. In contemporary landscaping, smaller bricks are rarely used because of traditional touch; however, larger slabs are carefully patterned and a great option for a modern outlook. Walkways with focal points or bold shapes are more prevalent in Calgary. Concrete provides cost-effective and more durable options.
Planting for Landscape Architecture:
People are actively looking for modern landscapes in Calgary, which are cost-effective, more uniform, and require low maintenance. The use of appropriate plants in proper landscaping designations is the best option in this regard. The use of Mulch is essential because it reduces the growth of weeds while conserving more water for desirable plants. Plant options that require minimal pruning are the best fit because they are beautiful landscapes but remove the hassle of maintenance.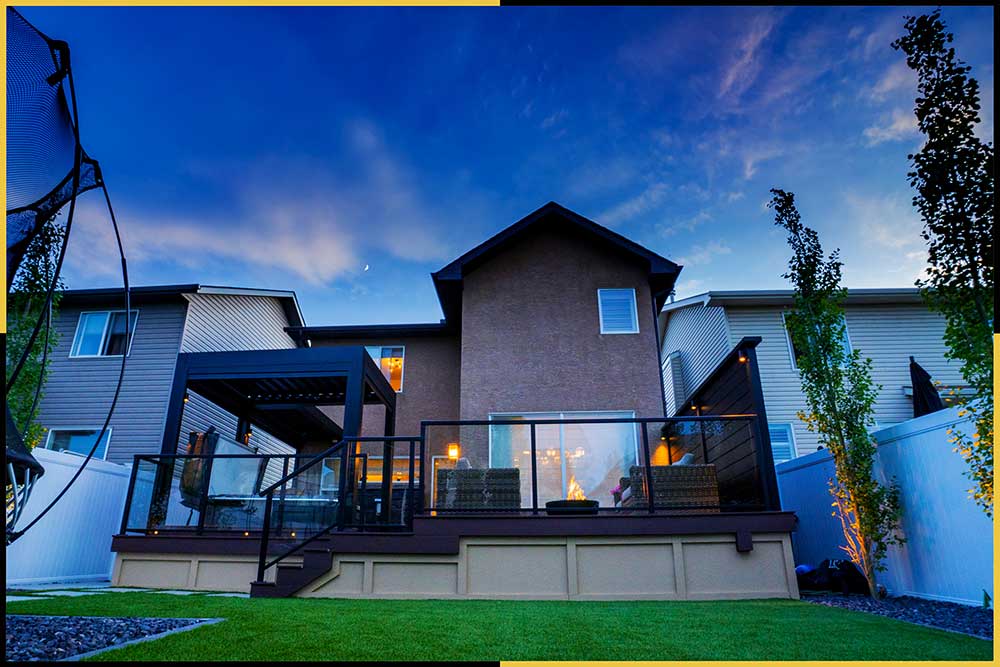 A large tree is not a good option for modern landscaping because of obvious reasons. You will not prefer to remove thousands of dry leaves from your yard. Container plantings are a great option for a green outlook. If you have limited space or want more symmetry in your lounge, you can use container plantings. Moreover, they are easily moveable so, you can modify the outlook whenever you want. It is crucial to place your plants symmetrically because symmetry and geometry are the foundation in modern landscape architecture.
If you have enough space, you can also choose a lawn landscape with frame gravel flowers. Try to select vibrant colours because it will increase the beauty of your landscape.
A common mistake people make while selecting a landscape in Calgary is mixing a lot of plants. You should choose just two to three types of plants because they will be more symmetrical and easier to maintain.
Landscaping in Calgary essentially includes water features because it suits nearly every type of landscape architecture. When an outdoor water feature is used in a busy area, it can control noise pollution by buffering the street's noise. A square, round or rectangular-shaped water feature is more prevalent in Calgary. It can be a pool or a small pond. Some people also prefer fountains and mini waterfalls, but it depends on your budget. Curvy focal points should be prevented in modern landscape architecture. Ideas about water features are unlimited but try to be more uniform and symmetric.
Probably the most critical type of landscape architecture in Calgary is fencing. It is a beautiful landscape option with added security and ease of access. Fencing is commonly used to preserve a house's privacy, but modern landscaping has increased the elegant look in this beautiful landscape. Mostly, wooden fences are preferred, but you can choose more durable and metallic options to fit your budget. After all, it will save your privacy, and it is an excellent investment towards the added security of your house. Vinyl has substituted the wooden landscape architecture because of durability and long service life. Wooden fences require more maintenance, and it is not an excellent option for harsh weather. Modern landscaping ideas should include low cost and durable options.
Finally, we have the outdoor lighting landscaping ideas that have gained remarkable popularity in Calgary during the last decade. Lighting is a beautiful landscape option that increases the glow and charm of your home sweet home. A well-lit landscape allows you to add more security to your house. You can use your outdoors at night for a barbeque party or a birthday bash by adding beautiful lights. An adequately lit outdoor is always preferred over a dark landscape. Always use proper symmetry and geometry in the lighting landscape. You can use floor lighting for floating steps, and you can use direct luminous lights on the water features. Some people prefer proper lighting around their planting landscape; it should be beautiful but straight forward because a crowded space is never a great option in beautiful landscape architecture.
These landscaping ideas in Calgary are providing valuable outdoor designs. There are plenty of other ideas to make your outdoors more beautiful, but the themes we just discussed are widely used as landscape architectures in Calgary. We are providing amazing landscapes in Calgary, and we will love to reform your house productively and cost-effectively.