Transformative Outdoor Lighting in Calgary
Elevate Your Landscape with Our Outdoor Lighting
We encourage outdoor lighting in Calgary so you can enjoy your backyards at night. Tazscapes Inc. provides the best quality of illumination for your dark landscapes. We deliver low voltage L.E.D. outdoor landscape lighting so you can not only accentuate and display your beautiful yard but also provide safety and security for your friends and family. A well-lit landscape becomes crucial, so your yard is used to its maximum potential during the short summer months we have here in Calgary.
Your Options For Outdoor Landscape Lighting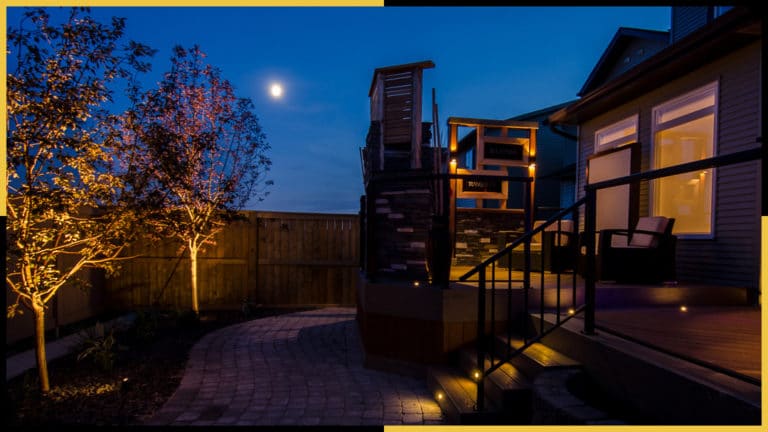 Unlike solar lights you can purchase from a hardware store, quality and custom outdoor landscape lighting in Calgary are built to last and provide your yard with recognizable enhancements that will have everyone amazed – such as your hardscaping features like patios and decks, to softscaping features like trees and shrubs.
We also offer our clients the ability to illuminate the various features within their landscapes, such as privacy screens, pergolas, outdoor kitchens and even water features so the yard can be appreciated no matter what time of the day – or night – it is.
Maximize Lighting Usability
Landscape lights can be used for walkways or paths to assist in circulation through your yard at night with path lighting or simply directed to illuminate a feature tree with spotlighting.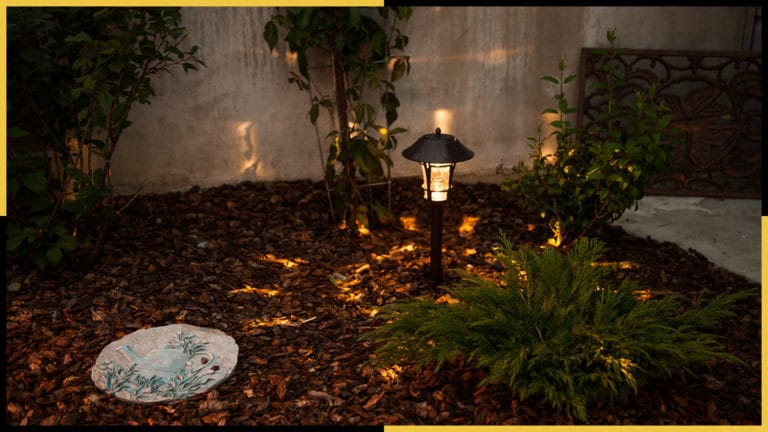 Outdoor Landscape Lighting Aesthetics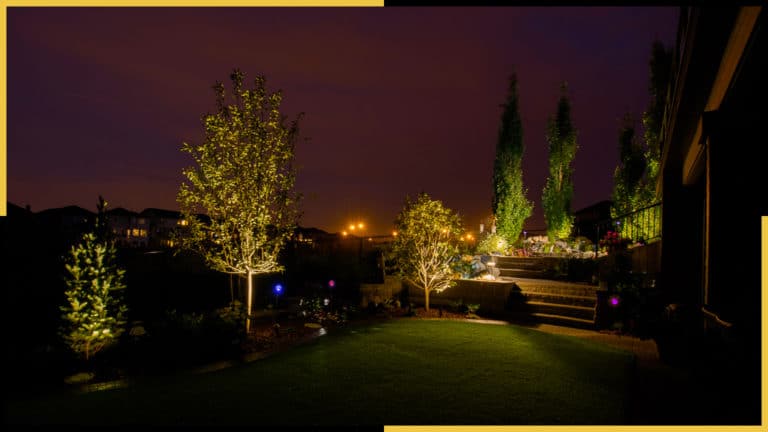 Landscape lighting really sets a mood in your yard. It accentuates a theme and activates senses within us that only those who have experienced it can attest to. By strategically placing lighting within your landscape, we enhance the experience of outdoor living for our clients in an emotional way.
Tazscapes Inc. is one of the premier landscapers, priding oursevles on being qualified landscaping professionals that go above and beyond with outdoor lighting installation for our clients, thus providing workmanship that is far superior to any other landscape construction company.
Frequently asked questions
LED stands for "light-emitting diode", and these light bulbs are one of the most popular on the market. And for a good reason: they last longer, are more durable and are more energy-efficient. You can save energy while having peace of mind knowing that your bulbs last longer. It's a win-win situation, and it's why we encourage the use of LED lights for our outdoor lighting systems.
As we use LED lights, you can expect a minor increase in your energy usage, and therefore, your bills. While the initial cost for installing LED lights might be more costly than cheaper bulbs, the long-term benefits are more financially viable. It's the best decision you can make for your outdoor lighting feature. 
Just like any outdoor feature, maintenance is required to ensure everything works as expected. Some very common maintenance activities include replacing light bulbs when needed, repairing or replacing wires (if damaged) or moving and adding new fixtures to the system. It would help if you also got electrical inspections done every six months to assess the condition and safety of your system.