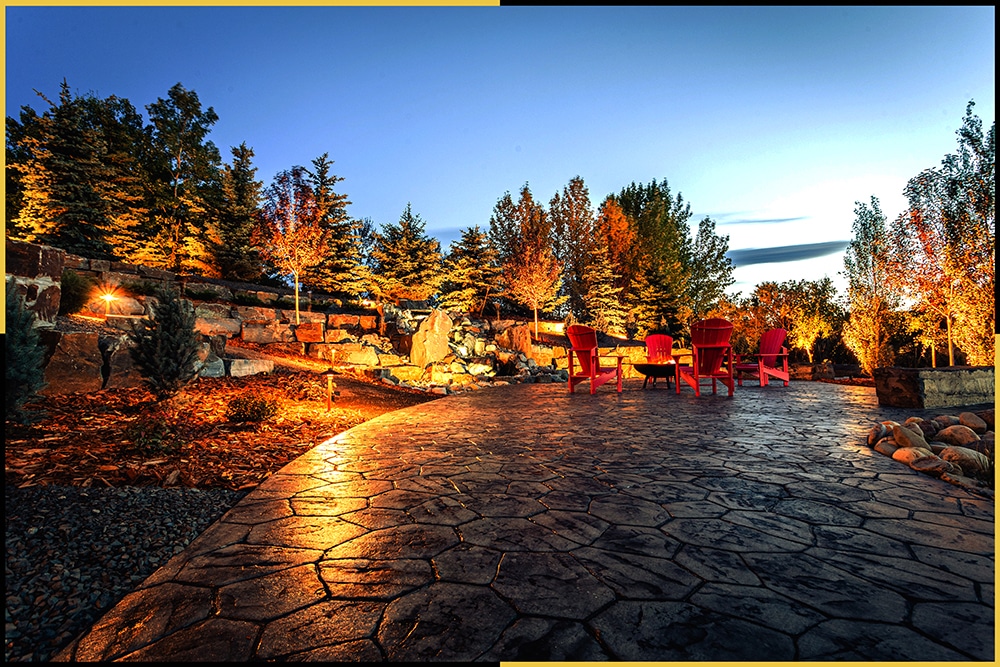 If you're the type of person who likes to have small family/friends gatherings or large office parties in your home, then you have to purport a landscape design that best caters to your needs.
But often, one can feel overwhelmed with the variety of options many landscaping companies in Calgary today provide.
In this article, I want to talk about some of the more foundational aspects of Calgary Landscaping such as understanding our areas of entertainment and then dive into some of the 'cherries on top' elements such as fire, water and even green grass and how it relates to creating the ultimate outdoor entertaining area.
Essential Tips for Landscaping Your Backyard
PATIO VS. DECK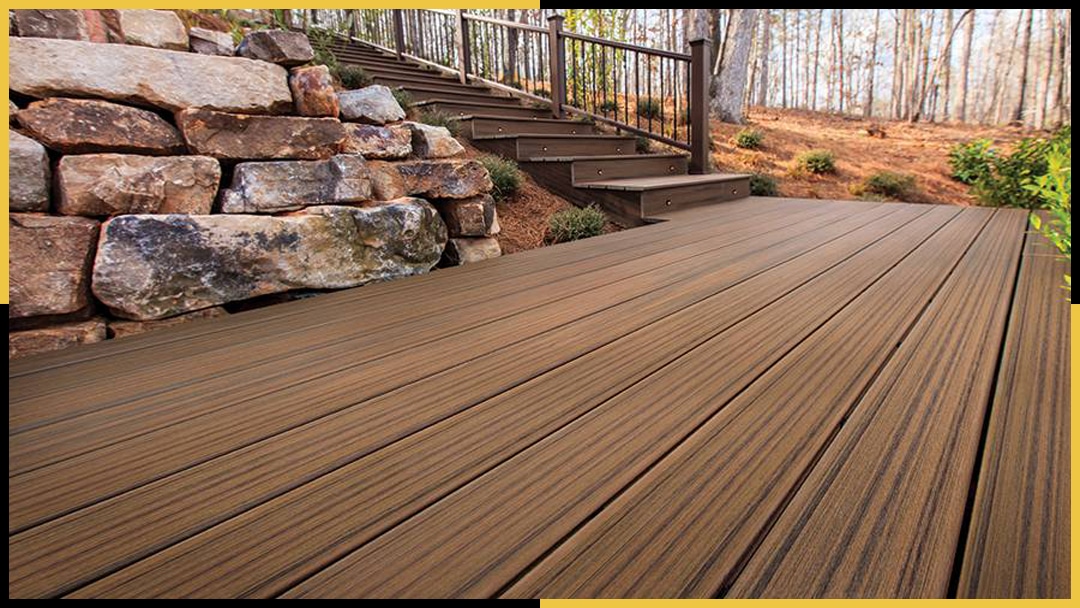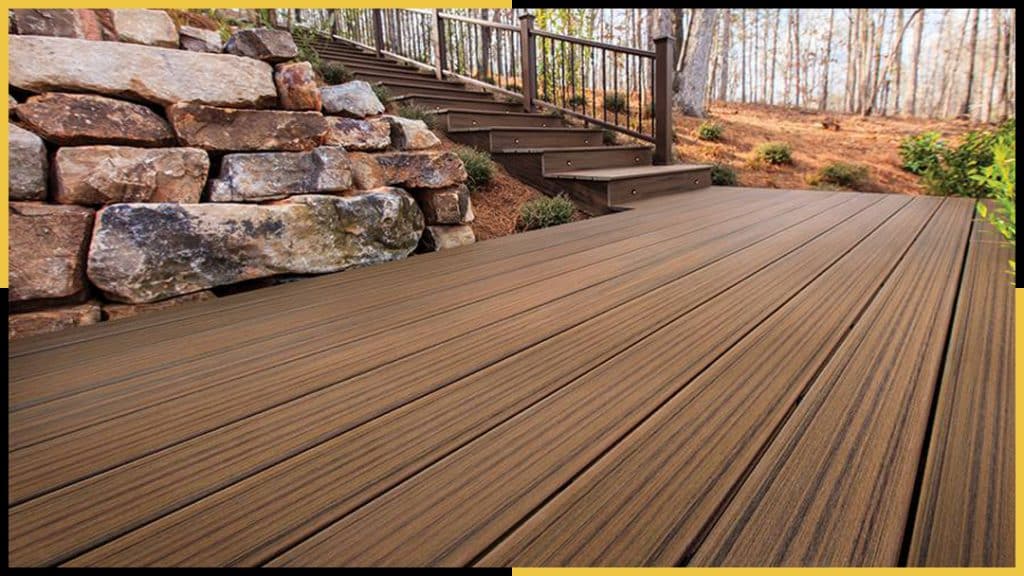 The first and most important factor is to decide as to what surface and material you find appealing most: patios or decks.
Patios can be paving stone patio or concrete patio, whereas wood decks have options of going composite or cedar based. 
Most people overlook the fact that wood decks in Calgary generally cost more than flat concrete patios or even paving stone patios – mainly because of the material cost and the labour to get them done – however, keep in mind, if you do require a retaining wall to support an outdoor patio, then the cost difference between the deck and patio will be minimal and largely depend on the size of this space.
COOKING / DINING / LOUNGING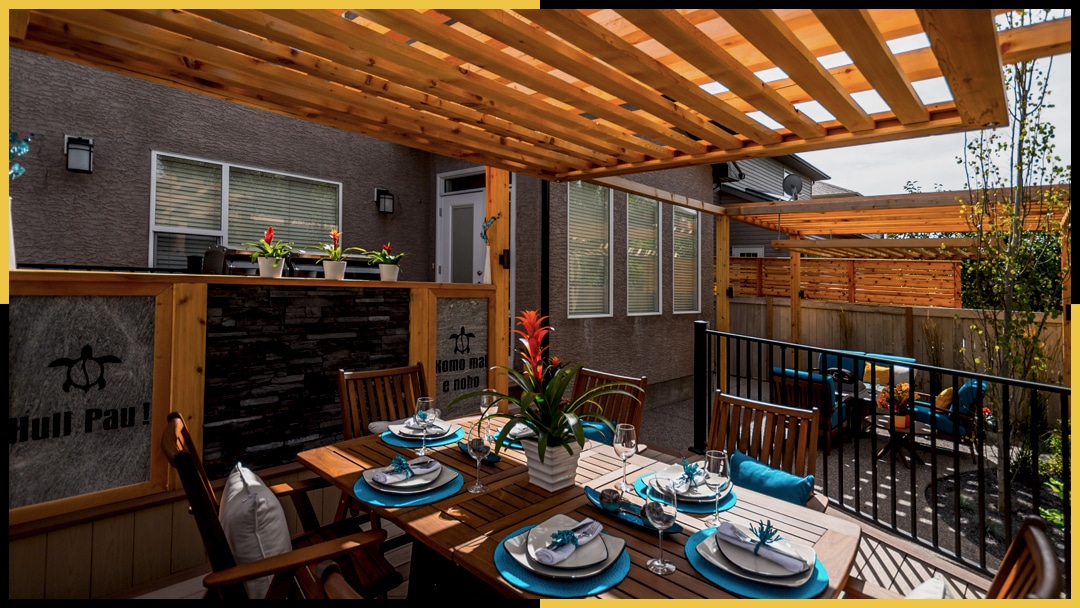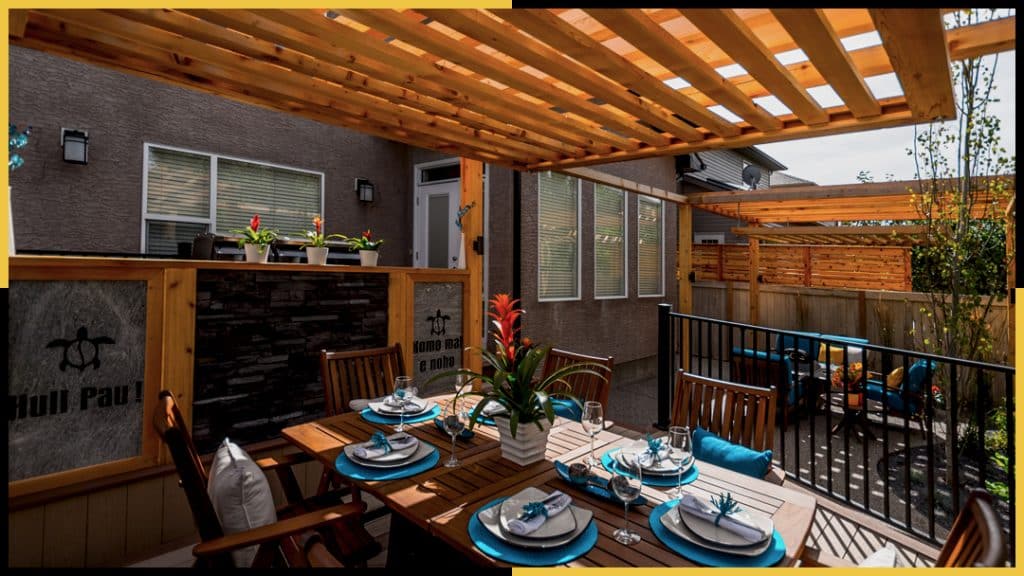 The next important factor to consider is establishing what exactly your entertaining spaces will consist of – will you be barbequing outside? Will you also be eating outside? Or will you simply use that space for relaxing with people after dinner has been finished inside the house?
If you decide to have a cooking space, you will need to consider outdoor kitchens. However, often, when people hear that term, they imagine extensive (and expensive) kitchen-like stations like in their home, but this doesn't have to be the case.
Outdoor kitchens in Calgary range from a simple built-in BBQ with small countertops to place food on and drawers to keep essential utensils in. However, having said that, this can also expand to side burners/smokers/garbage and storage areas to even fridges and sinks.
It really is up to you as to what you want, but the best way is to speak to a qualified landscaping contractor in Calgary that can assist you in your particular needs and give you design ideas accordingly. 
For dining spaces, you always want to ensure it stays close to the cooking area because you never want to travel far with your food, plates and drinks. It's always good to have enough space for a table and chairs, but one key thing most people forget: to be able to pull those chairs back and have someone squeeze through when doing so. 
This is a mistake many landscape designers in Calgary make when deciding how/when to create usable spaces.
Lounging spaces often include some kind of a feature – that feature often being a firepit or fireplace. I always stress that the lounging area should be a little further away, as opposed to the cooking area or dining area from the house for two reasons:
You want to have a 'place to travel' after dinner concept. There is an inherent desire to use that space when you have somewhere to go – especially when you're with other people.
In keeping things in a small distance away but very visually available (from your cooking/dining area), you create a sense of intrigue as people have a desire to "check-out" the area
COLOUR – VISUALS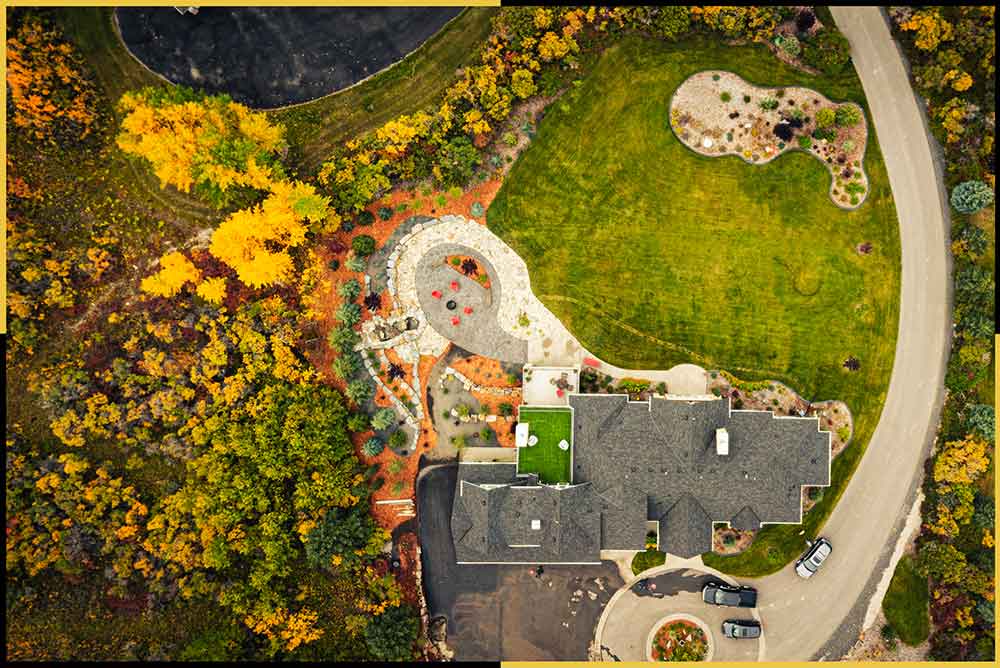 Make it appealing. It goes without saying, but I can't tell you how many yards I have been in and seen that have been designed where planting beds are poorly placed or worse, the plants have died because of poor plant material selection.
Understand that people (including you) attribute the colour to moods – red, yellow, orange as an example, are vibrant colours that enhance a space. This means, when selecting plant materials, get a sense of the mood you're trying to create – select plant materials that have blooming fall colours so when you get that gorgeous sunset, it all comes together.
OPEN GREEN SPACE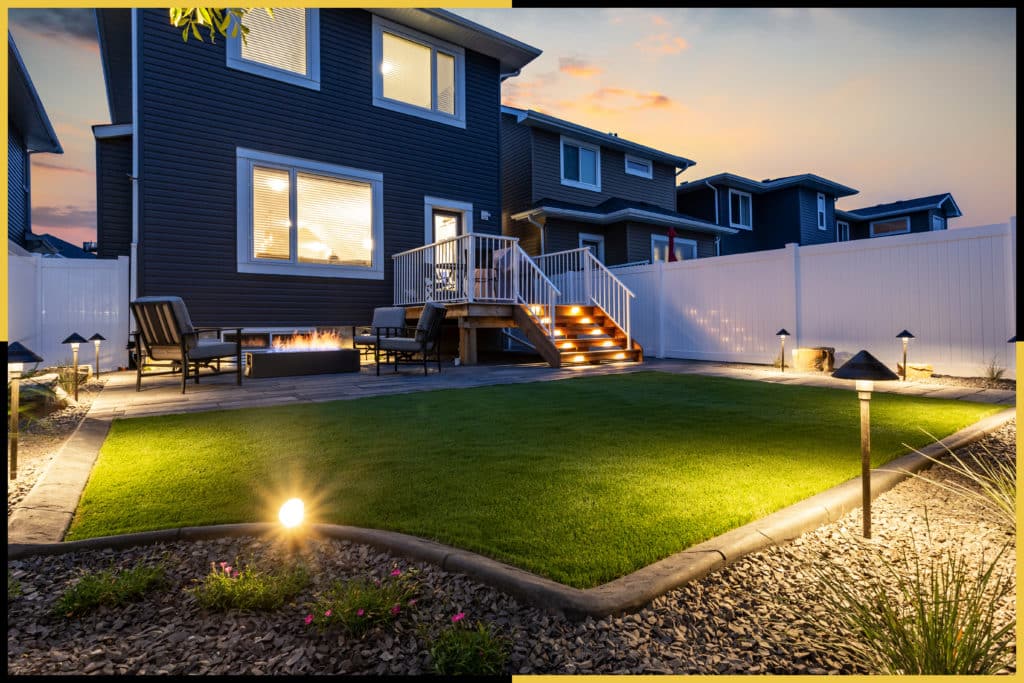 I often go into landscape consultations in Calgary homes where clients tell me they don't want any grass in their yards. I understand it's because no one wants to maintain grass – it's a hassle to cut every week, and often there are yellow patches that die off given our climate. However, I tend to argue the benefits of having grass in your yard – especially if you have a medium to large size lot.
There is something about green. The colour green. The texture of the grass in a relatively expansive space that connects humans to earth. It is the sense that you are outside, you are with nature and you are embracing an outdoor environment given by mother nature.
The texture and colour of grass (real or fake turf) really bring brightness to the yard you can't imagine. Often, if it is strictly a maintenance problem, I encourage my clients to invest in artificial grass or what's known as a synthetic lawn forlow maintenance. Today, the kinds of products Calgary landscapers are installing are very high premium fake grass which most people can't even tell the difference between real and fake anymore.
I believe that it is worth the investment to ensure your backyard has space to move around rather than feel enclosed.
SOUND – THE FORGOTTEN SENSE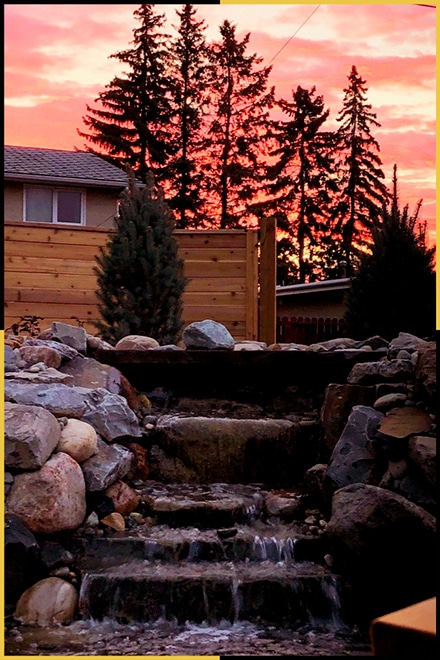 When we plan and think about outdoor living – many of us are constantly thinking about vision – Sight. And overall look of the space to essentially create a "feeling" of the space. But seldom do people consider the sounds you will encounter that can completely change that feeling in an instant.
Think about spending time in your backyard on a nice summer day and imagine birds chirping in the distance with clear blue skies. Relaxing, isn't it?
Now replace that same chirping birds sound with traffic noise, neighbour's talking or even absolute silence. Not as relaxing anymore, is it?
This is why I have always been a strong proponent of adding water features to the outdoor space. Strategically, we can place the water feature in an area that can not only be a beautiful sightline to look at from inside the house but, more importantly, adds the sound of water when immersed in your outdoor landscape.
Many people get scared of the thought of having water features in their backyards, with the number one concern being too much maintenance. However, water features in Calgarydon't have to be an elaborate waterfall, stream or pond that will take some caring of. It can be a simple bubbler or fountain. A little fall from a retaining wall. It doesn't have to get complicated, but you should highly consider the sound of the space when creating a space for entertainment – it really makes a big difference.
ILLUMINATING THE DETAILS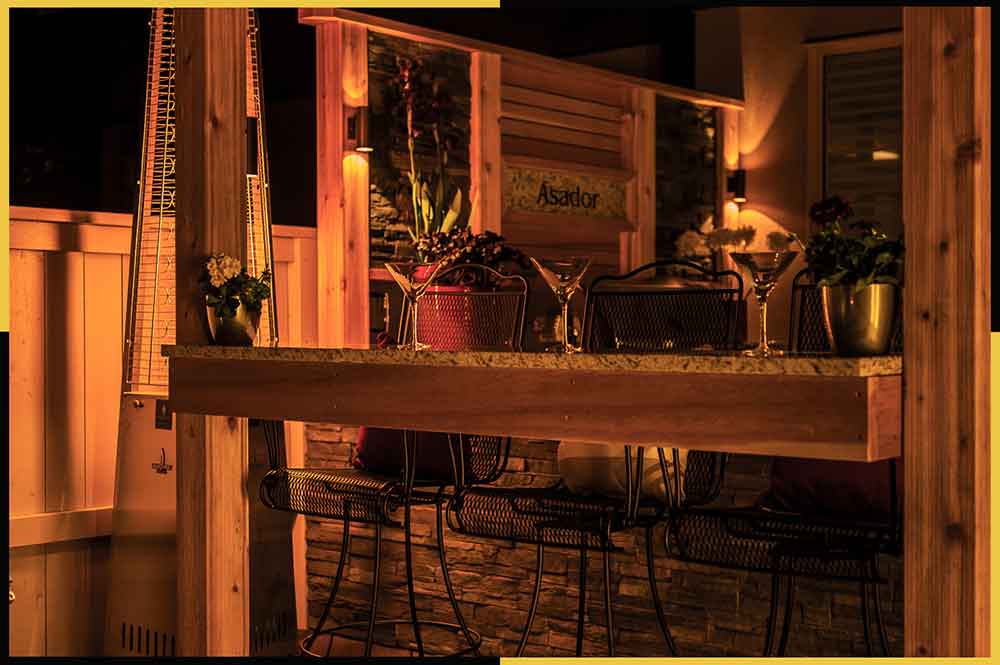 You may have spent a lot of time thinking about your outdoor space. From spatial planning principles such as scale and form to aesthetic details such as the type of plant material, you have selected. But not every one of your guests will notice the same.
One way to highlight those details is by outdoor landscape lighting.
Landscape lighting creates an environment and ambience like no other. Similar to fire and water, as discussed above, lighting creates a mood that is like no other.
By illuminating the space you created and strategically placing outdoor lights pointing to the finer details of your Calgary yard, you can be sure it won't go unnoticed.
ENCOMPASSING THE OVERALL ENTERTAINMENT SPACE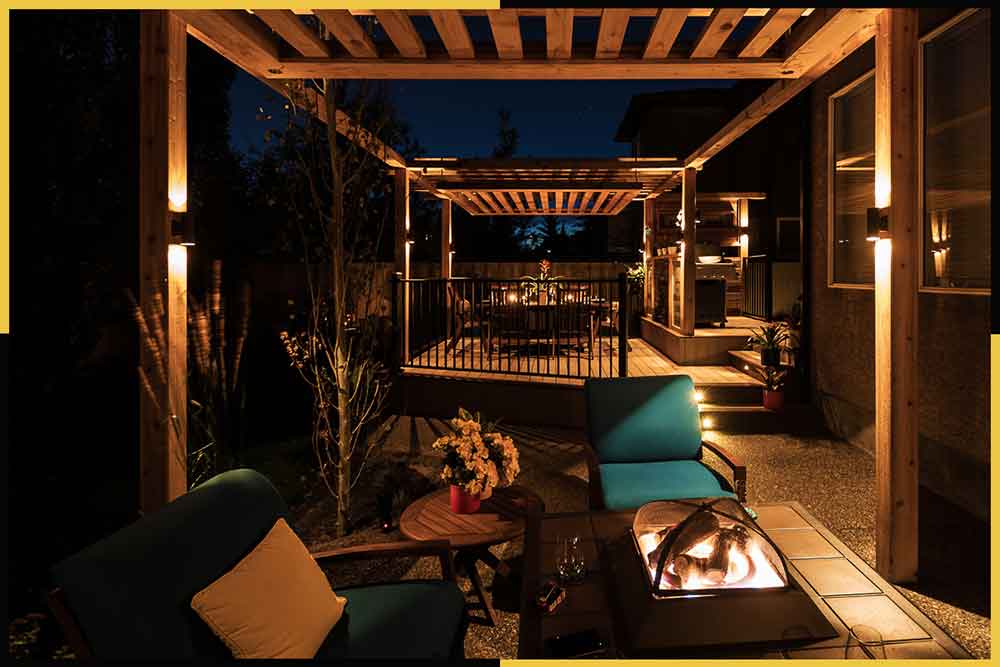 Your landscaping in Calgary will obviously depend on factors such as the size of your lot and the value you see in investing in that space – ie. Your budget.
But if you can imagine your entertaining area as if it's already happening, it can help you in thinking about some of the design elements.
For example, when your guests come in, what is the sequence of events that will take place?
From cooking to dining to lounging, you have to play out the scenarios in your head and even walk like you would walk in that space to get a deep understanding of spatial planning.
By doing this exercise, you are ensuring you make proper decisions by going through landscape design process that will be best for your outdoor entertainment. Browse through some of our landscape design portfolio showing beautified Calgary homes and then give us a call at 587-578-0747.