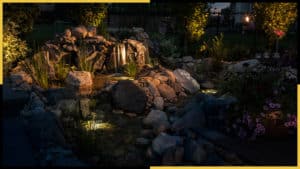 Water is as natural as it gets. There is something about the sound and look of a beautiful water feature that captivates many Calgary home-owners.
Installing an outdoor water feature for your Calgary residential landscaping can be as simple as a 'rock bubbling water fountain,' or as intricate as a grand waterfall spilling into a rushing stream. Don't forget the live fish!
Yep, it's all possible in a backyard water feature.
There are many options to choose from, and each has their weight in gold.
Maintenance and budget are usually the top concerns when it comes to considering an outdoor water feature.
These may be mitigated depending on what kind of outdoor water feature ideas your landscape designer proposes. Nonetheless, it's imperative that your detailed landscape design can implement it well with the overall concept of your backyard.
I encourage outdoor water feature ideas, especially in bigger backyards. However, I always make sure that the type and style of ideas I propose make sense. This is not only so I can comply with what client desires, but also so it fits in with the overall scale and elements of the property.
---
Outdoor Waterfalls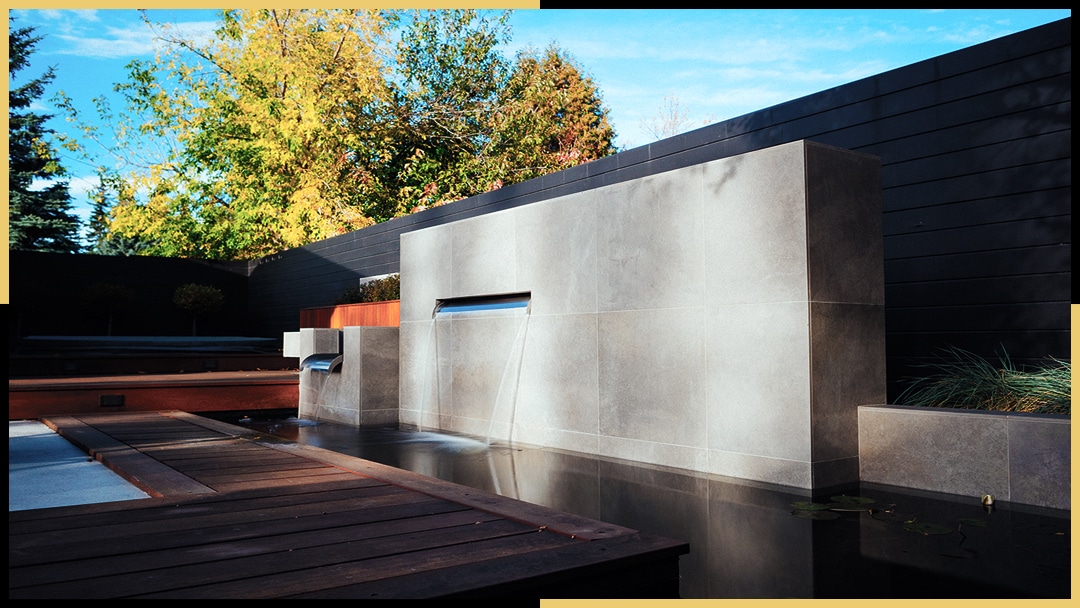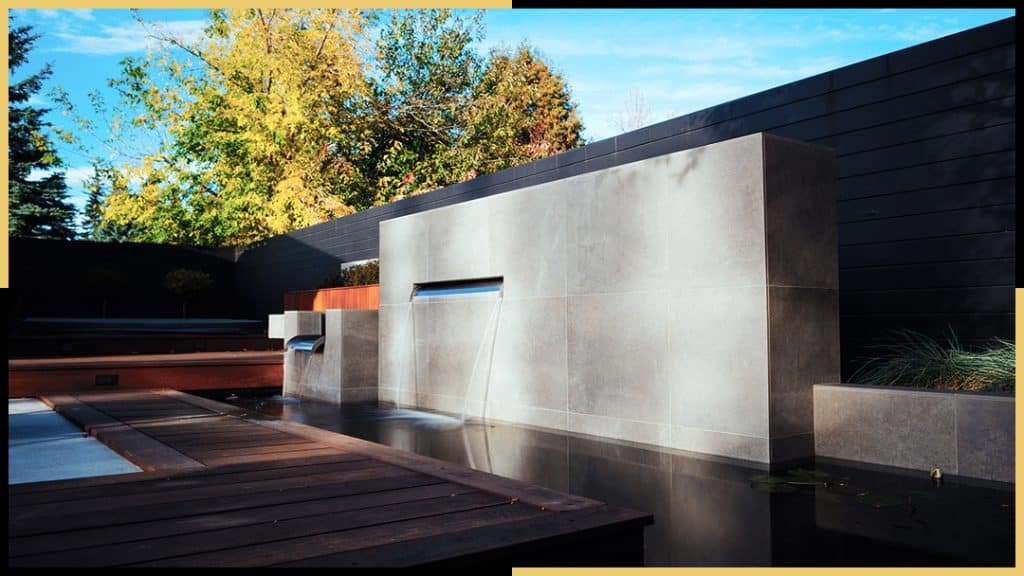 A waterfall is a fantastic focal point that can bring a sense of tranquillity to your yard. The sound enhances the yard's overall serenity and can add value to the backyard escape.
By altering the layout of the stones, you can set up multiple levels of falls giving it a cascading effect. Thus, you enhance the visual aspect of the feature in your landscape.
---
Ponds
Ponds add value to your property and tend to give you an escape from the everyday rat-race. They do require regular maintenance to thrive, but don't worry! The service is often be provided by the Calgary landscaping company for a recurring fee.
They can be a real undertaking, but when done correctly, ponds can create a great visual masterpiece in your backyard.
---

Pondless
There's an option for those still aiming for a waterfall but not interested in having to deal with regular maintenance of a full-sized pond. Many of our Calgary residents tend to choose a pondless water feature.
Essentially, in a pondless outdoor water feature, you have a reservoir in which the water spills. It's then redirected (or pumped) to cycle back up to the top so it can fall again and recycle water.
---

Rock Bubblers or Fountains
A rock bubbling fountain is something I often recommend to clients who aren't big on water features because I know it would enhance the look and feel of their yard. These are also great for small backyards or small gardens.
Sometimes, during the landscape design process, I like to put statement features in certain areas. One great feature is water – but when I get pushback from my clients, it's mainly because of maintenance and budget. Then, I lean towards the rock bubbling water fountain.
It's a simple concept. I am taking a natural rock, drilling a hole, feeding a pump through it and having a small catch basin underneath (similar to a pondless reservoir).
With a push of a button, my clients can increase/decrease the flow, or turn it on and off as they please.
Rock bubblers or natural water fountains are cost-effective, require almost no maintenance and enhance small backyards and gardens immensely.
---
Outdoor water feature installation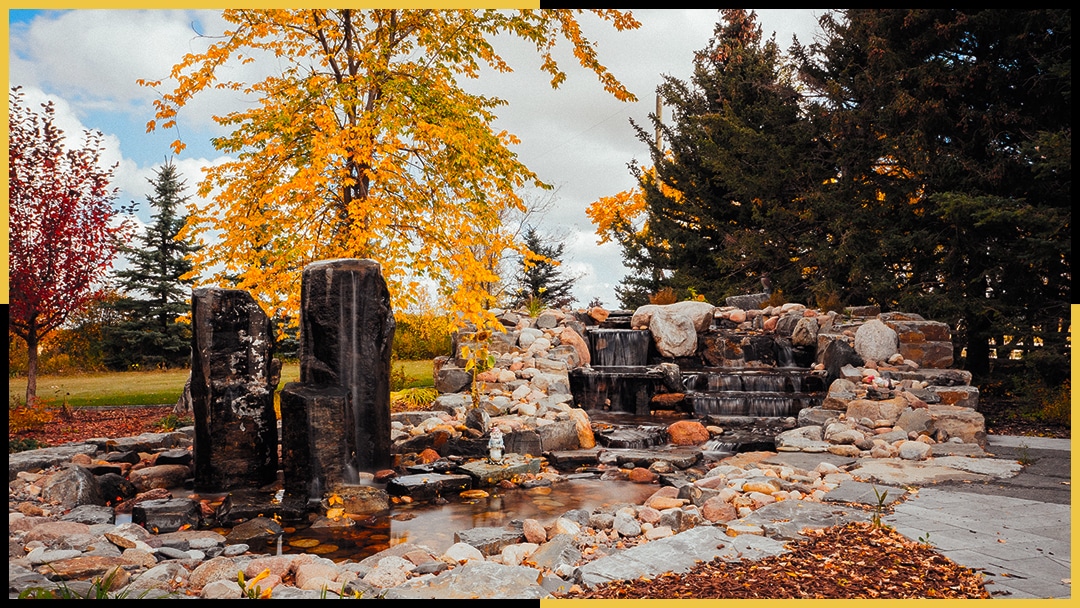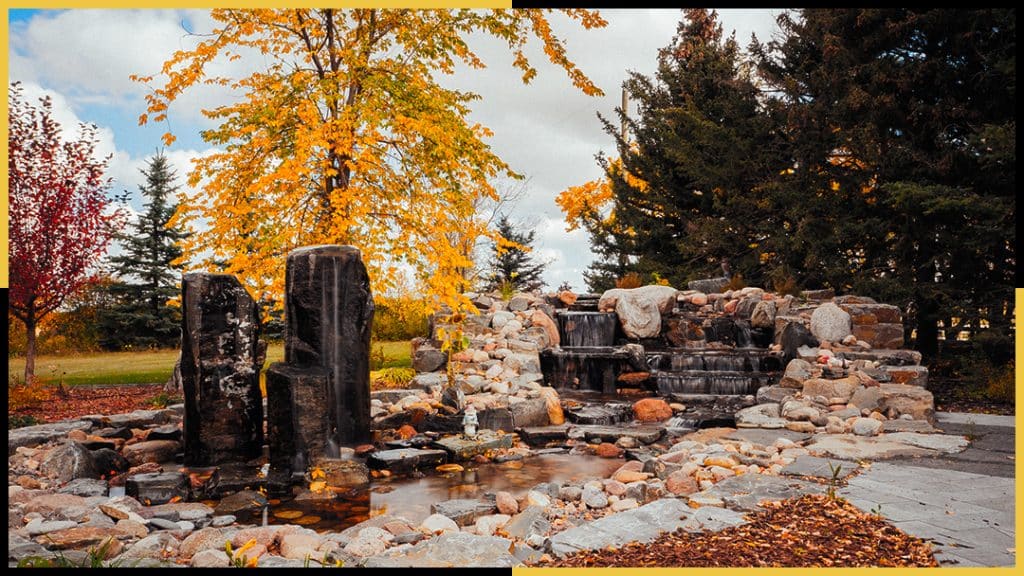 Outdoor water features can be labour-intensive and require precise landscape planning and detailed execution by your Calgary landscaping company. You must ensure you have installed something that will work for years to come – especially given the Calgary weather.
Excavation needs to happen accurately to make sure that a reputable pond builder in Calgary correctly installs the pond liner and pump.
At Tazscapes, we design and install outdoor water features of all sizes and make sure our clients' needs are fulfilled. Our detailed landscape design proposal and excellent-quality construction are unparalleled in Calgary.
Give us a call today if you are thinking about bringing some sights and sounds of tranquillity to your Calgary backyard!