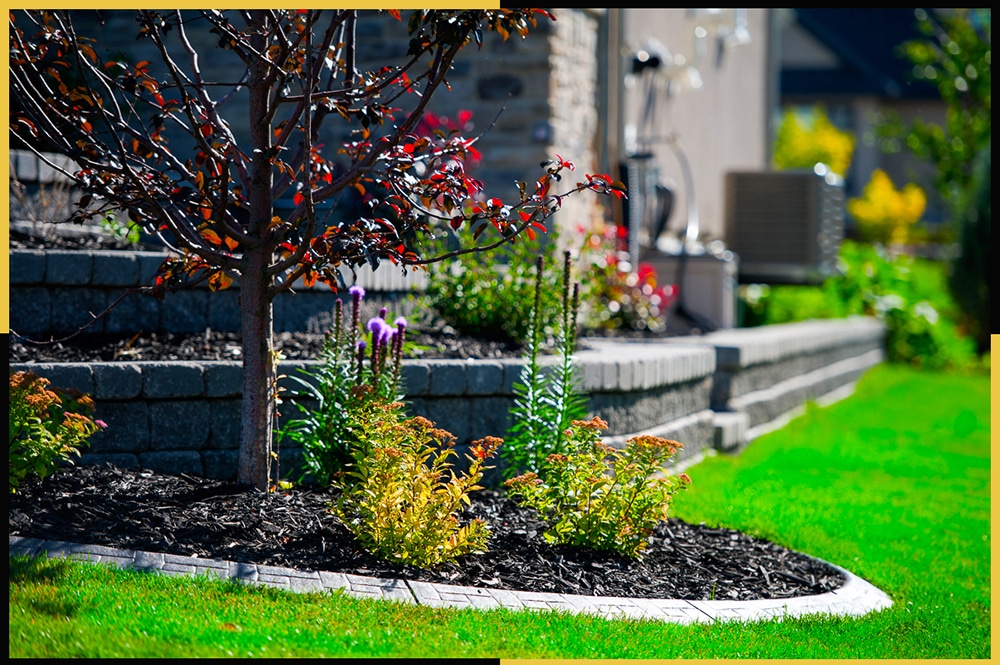 There are many factors that people need to be aware of when trying to put together landscaping ideas your Calgary home – one that will not only enhance your life but one that will return the investment you put in.
There is a clear balance that needs to be made between your particular wants and those of others – who may one day want to purchase your home.
For example, if you don't have children – another home buyer might. And you don't want to deter that new home buyer with having no adequate open greenspace. If you don't want that open greenspace but know someone else might – a tough decision is to weigh the difference between living with open greenspace to appeal to a broader market down the road or simply acknowledging that there may be a subsegment of the population you are okay with possibly deterring when it comes time to sell the home.
As a professional landscape designer, the one question I always ask my clients is if the home is a short-term 3-5 year investment or a long term 'we plan to retire in this home' investment. Of course, no one can tell the future, but if we can somehow assess how long we'll be here, it'll help us make decisions on how to proceed with our landscaping.
If you truly don't have any intention of moving anytime soon – by soon, I mean under 5 years – I am a strong believer in forgetting about the ROI and simply investing in your own lifestyle. This means the return on your investment might not be a great dollar-wise investment when it comes time to sell the home, but for five years, you and your family will more than enjoy that space while making amazing experiential memories in your Calgary Landscape.
However, if you do think this is a short term investment – or even if you just know that this isn't a place you want to spend a long time and just waiting for that next big job opportunity before you gather together all your belongings and head for the hills – then here are the most important points to consider when you decide to landscape your Calgary home.
Important Points to Consider When You Decide to Landscape Your Calgary Home

PROFESSIONAL LANDSCAPE DESIGN
The first step always is to get a professional landscape design done by a qualified landscape designer. Someone who is experienced in not only the design vision but also the technical things such as site analysis, grading and construction methods.
Skipping this step can easily lead to many problems down the road and trying to correct it after the fact will cost more than double. It's best to have a clearly laid out analysis of your yard and an even more detailed plan for execution, which includes the various opportunities and constraints that are in your respective yard.

LOW MAINTENANCE LANDSCAPING
The number one most attractive feature that increases the value of your home, undoubtedly, is a low maintenance yard. 
This includes the use of artificial grass over sod to avoid regular lawn maintenance. It is one of the most attractive features as it also gives people a luscious green lawn without the common yellow / dying patches often attributed by sod.
If, however, you cannot afford to go that route, great combat to that is to install an irrigation system – which, though people will still have to cut their grass, they won't have to worry about watering their grass or their plant materials – thus keeping them looking good all year long.
Another important factor is to choose rock as your planting bed groundcover versus bark mulch. Over time, bark mulch decomposes, and every two to three years need to be cleaned out and topped up for a pristine look to the landscape. Rock, on the other hand, again is a little more expensive but requires no maintenance – it's good forever!
The last important major feature in a low maintenance yard is in regards to your hardscaping. This includes your wood deck, your paving stone patio and/or concrete patio.
If you decide to go with a wood deck – go with composite, it won't need to be stained and has a nearly lifetime warranty. There are many options, even within decks, that if you speak to any professional Deck Builder in Calgary, they should be able to break it down for you and give you different options along with pros/cons for each.
If you're thinking of doing a patio, go with paving stones versus concrete patios, as over time concrete, given our Calgary weather, will crack.

LANDSCAPING FOR EVERYONE
It's hard to create an outdoor space that no matter who it is, will love it. But it is important to ensure that you keep in mind that, for example, if you don't have kids or pets, your next owner may want just that.
It's always good to have a little bit of everything if you can. This will widely depend on the size of your property, but as a rule of thumb – a seating area (deck/patio) and open greenspace will usually appeal to most people – especially those with smaller children or pets.
So to combine it, you could do a section with fake grass, which is not only low maintenance but also an area for children/pets.
You also want to add something of a feature. I always stress the importance of fire, water and light, but in this case, it doesn't have to cost you an arm and a leg. You want to leave some kind of impression because when the potential home buyer sees your home, you want them to "ooh" and "ahh" that they will remember if it becomes close between your home and someone else's.
The fact of the matter is that most people do want a small space to – at a minimum – lounge at. Whether that's in the evenings after a long day of work or on the weekends when the sun is shining, and they don't have much to do – the problem is, most just don't want to pay for it. But if you can create a small "sense of place" in your Calgary landscaping elements, you will attract them as the work has already been paid for.

KEEP IT SIMPLE AND CLEAN
Your Calgary landscaping doesn't need to be anything extravagant at all. In fact, it's probably best to tell your landscape designer that you want to ensure there is a rate of return to your investment, so they keep the things as mentioned above in mind.
Most people aren't super outdoorsy people – and if they are, they're probably going to re-do the whole yard anyway with their own custom landscaping. Most people want a small or medium-sized seating area, whether that is a deck or a patio and open greenspace for children and pets.
People also value privacy – so ensuring trees and/or privacy screens or pergolas can be a great addition to your backyard and will definitely give it an "ooh/ahh" factor. Remember, no one wants to be seen or heard by neighbours, everyone wants their private space so the cozier you can make the space, the better!
Another important and simple factor that often goes unnoticed is the importance of outdoor landscape lighting because most people do tend to entertain even if it's just family and friends, and to have properly placed landscape lighting can really give your yard a nice boost!
Consider safety as well. Ensuring that a professional landscape contractor in Calgary has constructed your yard will ensure that the technical stuff like proper steps where needed, proper stability of structures etc. are all done to code. And things like gas and electrical lines are properly inspected by the City of Calgary.

FRONT YARD LANDSCAPING
Unless you have a really vast or grand entrance front yard, most Calgary city yards do not need a lot. Spend your money in your back yard and ensure the front yard is very simple.
Front yard landscaping often ranges from sod only to small beds with a feature tree. A nice feature that is relatively inexpensive is an address rock boulder as it does pop out the front in a unique way without having to spend a lot of money.
However, if you're on a lot that has a decent amount of space and could use a porch or some kind of seating patio – it's always nice to have. Again, not something you want to sink a lot of money into, but it's a feature that often gets overlooked. It's best to consult with a professional landscape designerwho can truly assess if the space is vast enough and the situating of the yard makes sense to know what's best for that front yard.
If you keep these principles in mind when thinking about the future of your landscaping, it will help you make the right decisions and allow you to attribute your budget efficiently.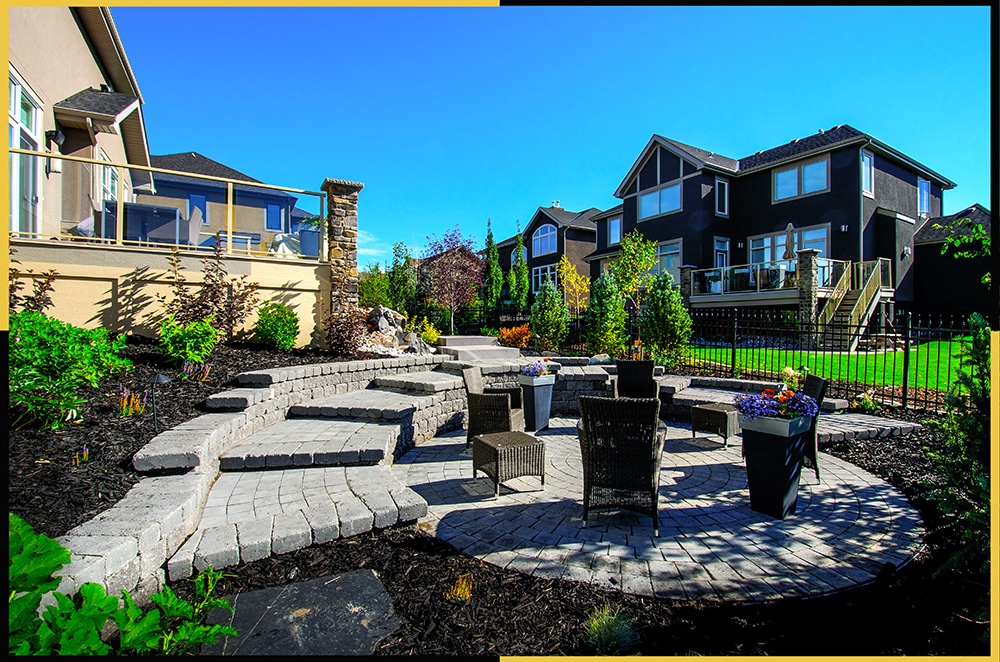 Are you interested in working with someone who simply gets you, saves you money and gets the job done right the first time? Call Tazscapes Landscaping at (587) 578-0747.