Hardscape and landscape, while related, are two different things. However, if you want to upgrade the look of your yard, it's essential to know the various elements that come into play. As one of the top landscaping companies in Calgary, we want to enlighten you regarding this matter, and in this article, we will discuss hardscaping vs landscaping.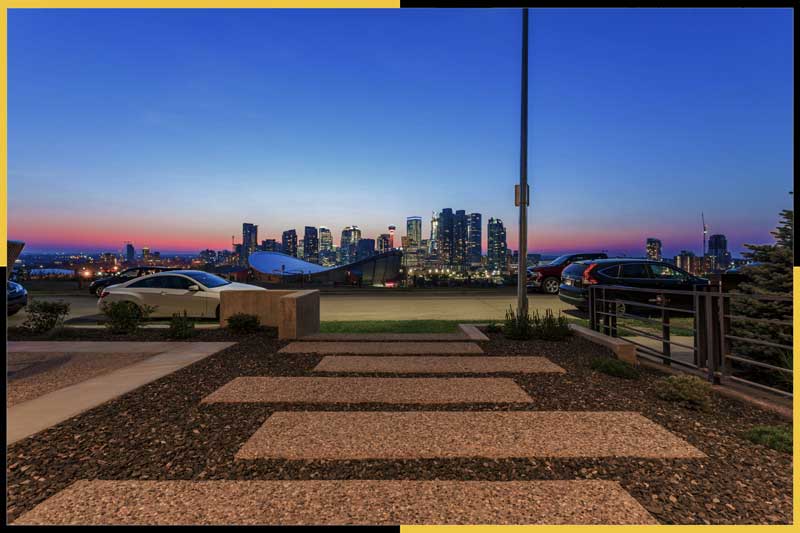 Hardscaping incorporates non-living materials into a landscape, such as stone, wood, metal, and concrete. Furthermore, hardscaping adds style, beauty, and value to your landscape. Hardscape features complement your softscaping. Some hardscaping projects are small in scope, while others require significant planning and installation time.
Common Hardscape Examples For Calgary Homeowners To Consider
Patios offer places for entertaining guests, reading a book, and enjoying family time. They serve as an outdoor extension of your home. Most homeowners want their patios to be private and situate them in the backyard. We have some great content for you to get some backyard design and landscaping ideas and design ideas if you have small yards. Some families opt instead to install patios in the front of their homes to serve as a spot for impromptu social gatherings. If you are interested in designing front yards, then reading about 5 incredible front yard landscaping ideas would be a great start.
Decks offer the same opportunities for enjoying outdoor space like patios but higher up. They serve as vantage points from which you can appreciate the surrounding landscape. If you want to maximize space in your yard, consider installing a tall deck that provides space underneath for a hot tub, patio, or play area for kids.
Outdoor water features have calming and relaxing effects. Examples of water features include ponds, fountains, water walls, and waterfalls. If you like the sound of running water, you can install a fountain. Or you can install a water wall in your outdoor kitchen to serve as a focal point of attention. If you love nature and wildlife, adding a pond to your yard would be a great idea.
Pergolas, Arbors, and Trellises
These structures add dimension and beauty to the landscape. Pergolas provide cover and shade for sitting areas and walkways. They can also serve as structures to support climbing vines, outdoor speakers, and strings of light. Pergolas can be incorporated into a deck or installed as a freestanding structure in a yard.
Arbours and trellises are architectural structures that provide impact statements in a landscape design. Generally, arbours are smaller and provide parameter separation or define a garden entry point.
Does landscape include hardscape? Yes. Landscaping encompasses both hardscaping and softscaping. Landscaping involves any or all of the following: addition of plants, construction of structures, and terrain manipulation in an area of land. It enhances the appearance and creates space for outdoor activities around a house.
With horticultural knowledge and familiarity with the principles of landscape design, landscaping companies in Calgary can help you transform your property. Landscape artists, designers, or contractors will guide you through the process, consisting of the design and construction phase. A landscape plan turns ideas into visuals and ensures that scale and layout are thought through before construction.
Some people want a unique combination of hardscape and softscape, while others wish for a specific garden style that they find appealing. Others go for an outdoor kitchen, fire pit, or patio to entertain visitors and friends. Whatever you desire, be sure to communicate it clearly to the landscaping professional you will be working with.
What Are The Three Parts Of A Landscape?
What is the difference between hardscaping and softscaping?
This section will answer this question and discuss the three parts of a landscape.
Hardscaping involves the non-living elements of a landscape. The hardscape can take various forms – brick patios, wood benches, wood decking, pebble pathways, limestone retention walls, wood decking, arbours, pergolas, gazebos, among others.
It serves many functions, such as creating walking paths, edging off gardens, providing shelter, and proper drainage. Regardless of whether they are made from natural or manufactured materials, a hardscape can organize green spaces and give character to a landscape.
Also known as greenscape, softscape refers to the living horticultural elements in your landscape (to put it simply, plants) – grass, shrubs, trees, flowers, herbs, vegetable gardens, among others. They provide colour, character, and natural beauty to an area.
There are so many possible options for softscaping, so it's advisable to consult with landscape artists or landscaping companies in your area.
Waterscape refers to water features in a landscape that provides peaceful ambiance, outdoor recreation, and relaxation. Fountains, waterfalls, koi fish ponds, spas, and pools are some examples of waterscape.
For Your Landscaping Needs, Contact Tazscapes Inc.
If you are searching for a professional to help you with your landscaping project, you've come to the right place. As one of the top-rated landscaping companies in Calgary, Tazscapes Inc will guide you through the entire landscaping process, from design to construction. We will work with you to create the best possible hardscape, softscape, and waterscape that suit your needs and preference. For more information, call us today at 587-578-0747.