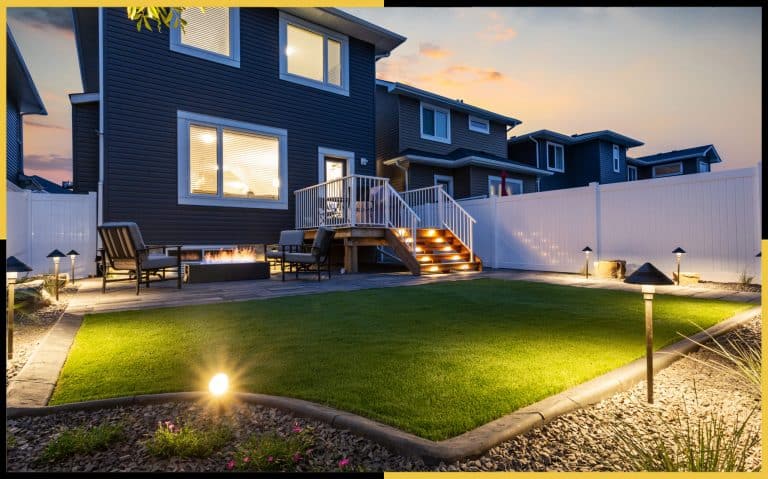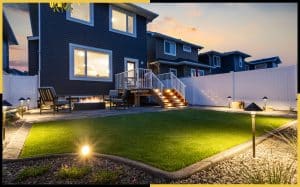 Artificial turf, artificial grass, synthetic lawn– call it what you want, but fake grass landscaping is starting to take over Calgary!
People are tired of mowing their lawns on a regular basis only to see dull, yellow-patched grass that makes their whole yard look awful. Let's face it, not everyone has the time or the passion for regular lawn care maintenance.
Enter artificial grass in Calgary. Not only is it zero maintenance, but it keeps your yard looking beautiful and lusciously green year-round. If you have children or pets, this is a great option. But as with anything that makes your life easier, it can be expensive.
Nonetheless, it's a great investment for your property. Besides the aesthetic value it can give your home, people appreciate not having to water or mow their lawns.
Within the artificial turf realm, you have loads of options. There are many textures and grades that you can choose from depending on your personal needs.
Let's take a deeper look.
History
The concept of fake grass originally came from a textile company, but the product was meant to be used for carpeting.
Today, new products have been tested and chemically treated so they are resistant to ultraviolet rays of the sun. This makes them wear-and-tear resilient against pet and children foot traffic, and fully applicable for residential Calgary landscaping.
Materiality
There are fibers in the synthetic turf, called blades, which essentially make up the "grass".
Made from elements like nylon or polypropylene, these are manufactured in different ways for different applications to mimic fake grass.
Installation
When proposing artificial turf to Calgary residents, my clients often wonder why it's so expensive. In their mind, we're simply "rolling out carpet", similar to sod.
The difference that many fail to realize is that unlike sod, proper Calgary landscaping practices require a solid 6"-8" aggregate base. This is more like the process involved in paving stones or concrete curbing. Excavation and grading to ensure proper drainage also allows it to become synthetic perfect turf.
Applications
I often recommend artificial turf in Calgary yards where home-owners who want luscious green lawn without worrying about maintenance.
In addition, clients who have pets that tend to make a mess benefit significantly from fake grass– even if it's for a small area like a dog-run.
The most popular reason clients select fake grass is for putting greens.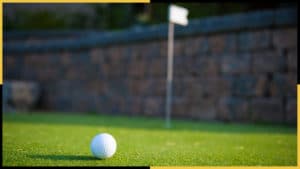 Putting greens in Calgary have become a great landscape feature. Home-owners can finally have a place to 'play' as they entertain their guests. Golfers also now have the ability to practice their game in the convenience of their own backyard.
I will really try to push the fake grass concept to clients in my landscape design proposal if I feel that their lawn area is small or needs grass installed. Think about it, do you really want to bring out a lawn mower or hose for an 80, or even 150 square foot area?
If so, what are the chances it will be as green and appear as healthy as the synthetic form I propose?
However, there is also something about natural grass that some clients prefer: the "connection to earth", if you will.
I honestly can't say if playing in natural grass or mud – as doctors tell us – built my immune system at an early age.
The choice is yours nonetheless. The benefits are there!
If you're looking to keep your lawn a maintenance-free one and aesthetically superior, I would highly recommend it. On the other hand, if budget is a concern and/or if you enjoy the natural look and feel of the outdoors, stick to regular sod.
At Tazscapes, we have expertly installed loads of artificial turf in Calgary, and can help you with yours.
Feel free to give us a call today for your new maintenance-free lawn!