There is a big list of companies that pop up when you search "landscape design contractors" in any search engine because many companies today realize the importance of providing quality landscape design services to their clients as fundamentally essential to landscaping in Calgary.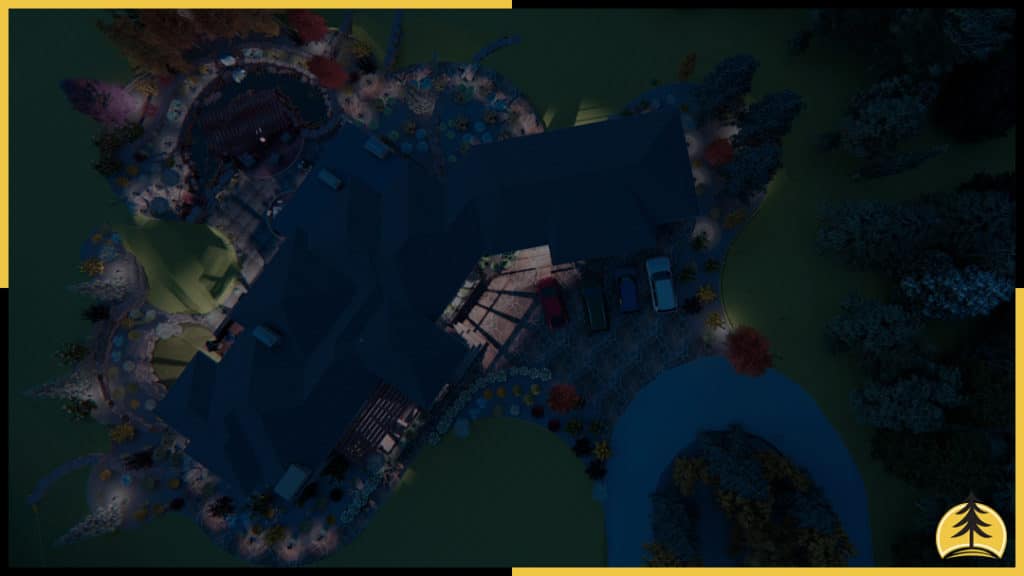 As landscape design contractors, we at Tazscapes Inc also offer our clients a thorough, and detailed landscape design services so we can clearly identify and depict our vision of your yard.
We have provided not only home-owners but other reputable residential landscaping companies with top quality landscape designs that assist in proper planning – thus setting a detailed framework for their landscaping projects.
---
Maximizing The Landscape Design
---
Our landscaping services starts with creating a beautiful 2D landscape design to showcase to our clients what we envision for their yard prior to any landscape construction taking place.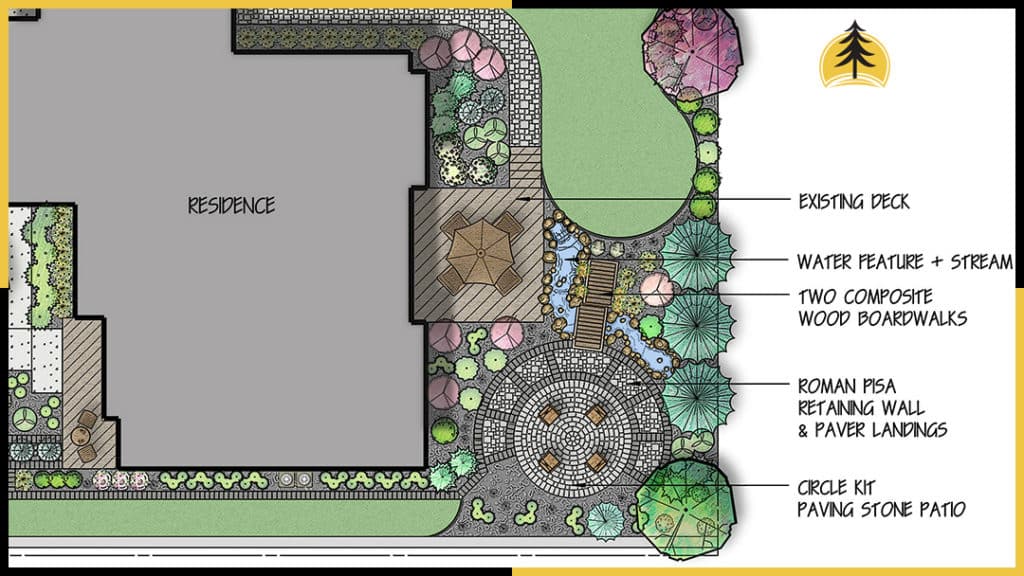 As the most prominent and reputable landscape design contractors in Calgary, our goal is to maximize the use of any drawings we do – This includes a grading plan, dimensional plan, and a planting plan – all so we can ensure that all parties involved from the home-owner to construction manager and down to the crew member, are all on the same page at the task at hand so during site preparation and/or landscape installation, no time is being wasted.
---
Why Let Tazscapes Inc Prepare Your Landscape Design?
---
Here, at Tazscapes Inc, we pride ourselves on creativity and do our best to produce unique design concepts for each yard we visit. We identify any problem areas (such as land drainage) by shooting our grade elevations and look for creative solutions in an affordable manner.
Furthermore, we make sure we ask the important questions that surround our client's everyday life – we want to make sure that our clients are given not only a design that is beautiful and creative, but also functional. By understanding your lifestyle, we are able to make sure you fully utilize the space that fits your lifestyle, a key factor that has our clients very happy at the end of every project we do.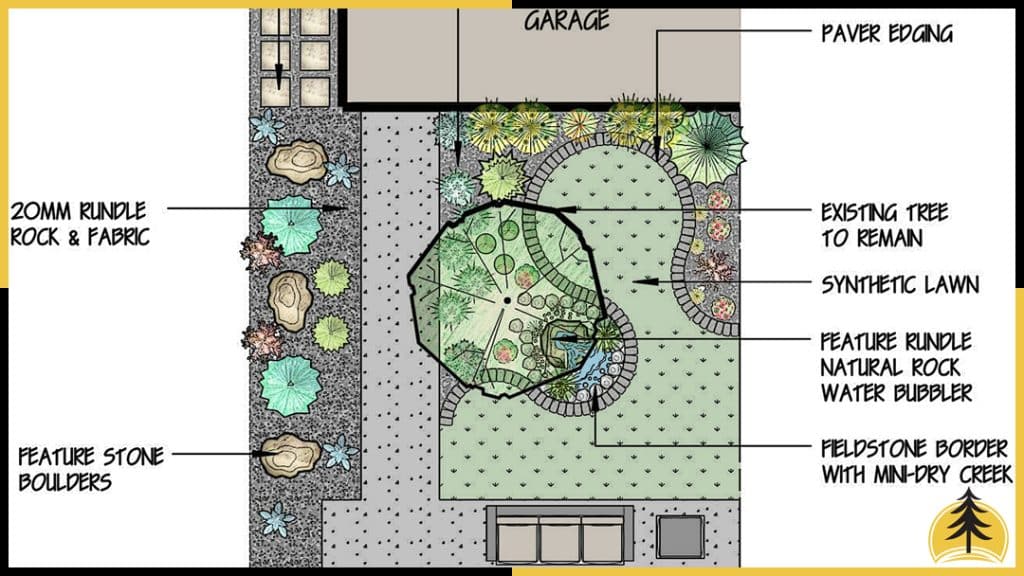 Unlike other landscape design contractors, each landscape design we prepare in Calgary is completely custom and tailored to the shape and size of your yard, so whether you are planning to have Tazscapes Inc provide the landscape construction services or planning on doing the work yourself; you can rest assure that you have a drawing that was done by a trained and qualified residential landscape designer.
---
Let Tazscapes Inc envision something spectacular for your backyard!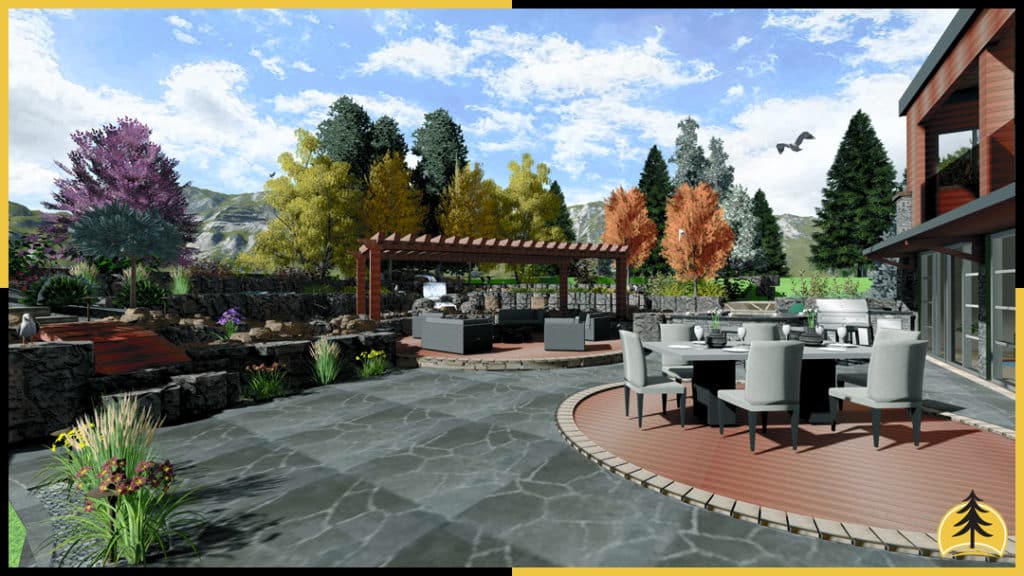 ---
Our Landscape Design Calgary Services include:
---
2 Dimensional Landscape Design | drawn to scale depicting all products and materials accurately
Material Takeoff sheet | listing all your Plant materials, and product square footages
3 Dimensional Landscape Design | Visualization renderings to allow you to envision our proposal
3 Dimensional Landscape Animation |  Walkthrough video of your landscaping project
---
Our process:
---
We have established a set of key steps that make us successful in creating beautiful and functional landscape designs for our clients in Calgary.
Check out our landscape design process from start to finish.