Landscaped Retaining Walls: Everything You Need To Know
If you've been thinking about landscaping your yard, and feel that a retaining wall can add structure and function, then you're probably right. Retaining walls have many benefits when it comes to adding one to your property.
If you're not exactly sure what a retaining wall does, we're here to fill you in. A retaining wall is a wall that is built to hold back earth or water. It is usually used in landscaping to create level areas in a sloped yard or to prevent soil erosion. Retaining walls can be made from a variety of materials, including wood, stone, and concrete.
To give you an idea of why, how, and when to add a retaining wall to your yard, then read on. In this blog post, we will focus on the cost of landscaped retaining walls, the process of building one, and when it might be right for you.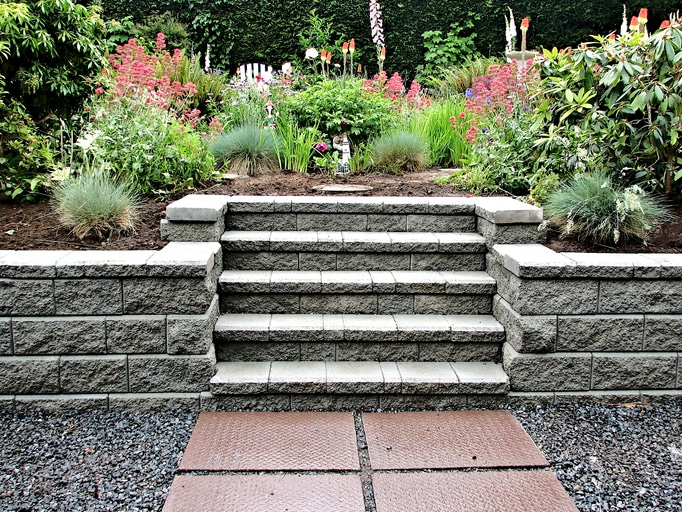 Why Build a Retaining Wall?
Building a landscaped retaining wall is a great way to improve the curb appeal of your home while also providing functional benefits. A landscaped retaining wall can help to level out an uneven yard, provide additional support for slopes, and even create extra outdoor living space.
Landscaping companies can design and install a custom landscaped retaining wall that will complement your home and meet your specific needs. In addition to improving the look of your home, a landscaped retaining wall can also increase its value. If you're thinking about selling your home in the future, a landscaped retaining wall is a great investment.
How Much Do Retaining Walls Cost?
The cost of a landscaped retaining wall depends on several factors, including the size of the wall, the type of concrete used, the complexity of the design, and whether you hire a professional to build it. If you consult with a landscaping company, they will be able to give you a quote that will include the materials, the labour, and the overall benefits of building a retaining wall.
To give you an idea of what the price range of a landscaped retaining wall would cost, here are a few estimates. For a small wall that is 3 feet tall and 10 feet long, you can expect to pay between $500 and $1,000. For a larger wall that is 6 feet tall and 20 feet long, you can expect to pay between $1,500 and $3,000. If you hire a professional to build your retaining wall, you can expect to pay an additional $500 to $1,000 for labor costs.
Final Thoughts
A retaining wall is a great way to add structure and interest to your landscape. If you are considering adding a retaining wall to your property, be sure to factor in the cost of materials as well as labor costs if you plan on hiring a professional Calgary landscaping company.
Since there are so many variables to consider when optioning the building of a retaining wall, the best way to get an accurate estimate for your project is to consult with a landscape professional who can assess your specific needs. That way, you will have a specific idea of what the process looks like, what you will be getting, how it will improve your yard, and how much it will cost.
Transform your home and increase its value and curb appeal while working with the best landscape company in Calgary with Tazscapes. Our award-winning team of landscape contractors and designers is recognized for creating and delivering stunning landscape designs in Calgary that are beautiful, functional and affordable. We offer various services, including landscape design, residential, commercial and acreage landscaping, hardscaping, such as retaining walls and concrete patios, and softscaping, such as sod and artificial grass installation. Our eye for details, meticulous planning and unique landscaping methods and eye-catching results is why we're a two-time Consumer Choice Award Winner. Contact us today at 587-578-0747 or [email protected].