Everyone deserves a peaceful and wonderful home where they can relax and enjoy. With the help of landscaping companies, Calgary homeowners can transform their yard into a place of escape so you can enjoy some fresh air, unwind, and have fun with family and friends.
This post will share five new home landscaping ideas to turn your yard into a home oasis– your very own outdoor paradise.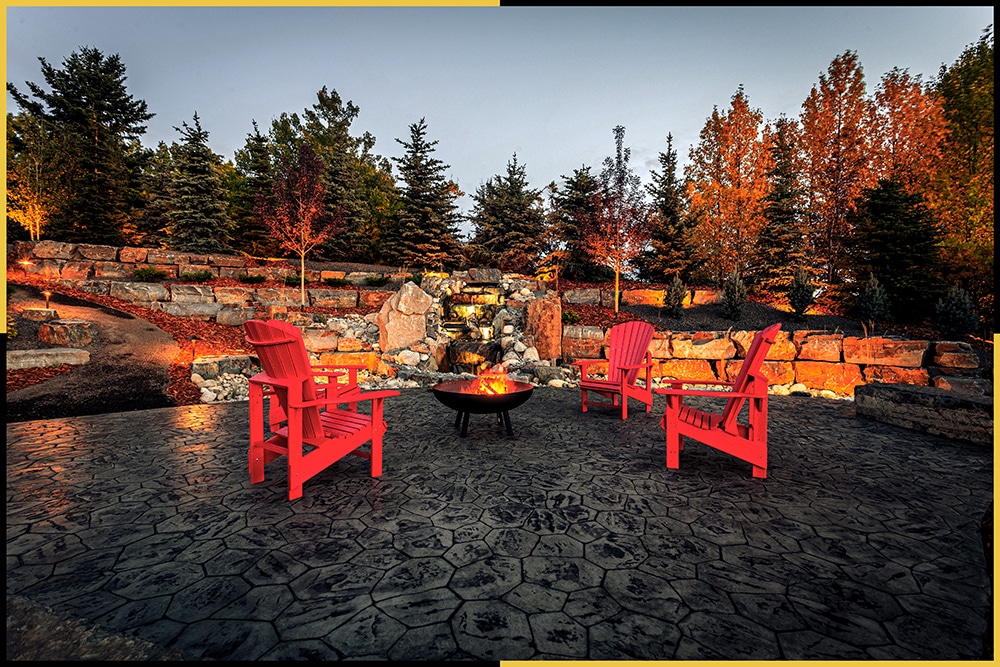 If you love the outdoors and want to enjoy the sights and sounds of nature, you can add a water feature to your home oasis. Water gardens have become increasingly popular, and more and more homeowners want to have an outdoor paradise with gardens, ponds, and waterfalls.
A well-designed pond can transform any outdoor space into a retreat of calm. It also brings beauty to the landscape and increases property value. Even with limited space, a reputable Calgary landscaping company can design a water garden for your yard.
While a fountain or waterfall might seem something that only wealthy people can afford, new home landscape packages are more budget-friendly than you might think. Even a small yard can incorporate water features, provided they are appropriate for the size of the yard. If you have questions, contact Tazscapes Inc. or search for a residential landscape designer near me in Calgary.
One advantage of using a pre-formed liner is that it takes the guesswork out of designing a pond. It comes in a wide variety of sizes, shapes, and depths. Some liners are constructed with pre-contoured steps and shelves. Because they are made of polyethylene material, they're able to withstand harsh weather conditions. The pond needs a water depth of at least 1.2 m (4 ft.) for fish to survive over the wintertime. Meanwhile, the disadvantage of using a pre-formed liner is it limits the design to a pre-formed shape.
Liners also allow for custom designing your pond. The rubber material is not only durable, but it is also flexible for creating any shape, design, or water depth that you want. Due to its flexibility, a liner may be more suited for stockfish because the required depth can be attained regardless of limited space. Also, they can be easily adjusted and designed with almost any kind of edging.
Waterfalls are the focal point of cascading water entering the pond. The primary consideration in waterfall design is the height of water streaming into the pond, and thus, a natural slope can be ideal for it. Alternatively, a berm (artificial slope) can be created behind the pond. Then, a flexible liner is put in place at the top of the waterfall. Next, the pump recirculates the water, creating a soothing sound effect. The finishing touches include rockery, which serves a dual purpose: hiding the liner and holding it down in place.
One of the best front yard landscaping ideas is a garden makeover. Plants and flowers are crucial components of an oasis. A flower garden can bring an excellent pop of colour to your yard. Meanwhile, an herb or vegetable garden will give your yard a pleasant aroma and allow you to harvest your own produce. Whatever you choose, one thing is for sure – it will make a vast improvement to your yard.
If you're a busy person, you can plant wildflowers that don't require much attention. However, if you want more low-maintenance landscaping ideas, browse online for "residential landscape architect near me."
If your yard looks appealing, but there's something that's a bit off, try looking down. For example, if your pathway or patio looks tired or damaged, it could bring down the look of your yard.
Consider replacing that dingy, dirty, old concrete with natural stone. Natural stones are an attractive option that can make your yard look more sophisticated. They are nearly as durable as concrete and can significantly improve the appearance of your yard.
A hot tub can be a visually beautiful addition to your yard. It can be a wonderful place to enjoy time with family and friends or relax after a long day. In addition, hot tubs have therapeutic benefits. They are suitable for sore muscles and joints. Also, they help increase blood flow and circulation.
A hot tub could help raise the resale value of your property if ever you decide to sell your home. For these reasons, a hot tub is certainly worth the investment.
When it comes to an oasis, a place to relax is vital. You can put a hammock between two trees or deck posts to have a snug spot for your afternoon nap. A chaise longue, meanwhile, is perfect for lounging with a book. To boost comfort, add plenty of cushions or outdoor pillows.
Tazscapes Inc. – One of the Top Rated Landscaping Companies in Calgary
These ideas will inspire how to turn your yard into a beautiful and relaxing home oasis. If you have questions about landscape design, new construction landscaping costs, or other concerns, contact Tazscapes Inc., one of Calgary's most trusted landscaping companies. Call us today at 587-578-0747 to learn more.